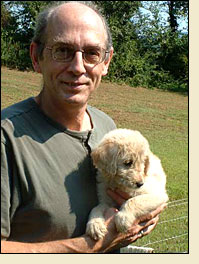 My interest in music began with the piano when I was about 5. A few years later I took up the flute. But music didn't really grab hold of me until I discovered jazz at age 13. After that I spent most of my time learning to improvise. I played with as many people as I could. Around this time I started composing, mostly jazz tunes for the bands I was playing with. I got more and more intrigued with writing music and wound up at the Eastman School of Music as a composition major.

A year after I entered Eastman they installed one of the first Moog studios. I was one of the first people in the door. I had found my calling. A couple of years after I left school, I was hired by the Strasenburgh Planetarium as composer in residence. I did electronic music for star shows for the next 15 years. Along the way I studied North Indian classical music and learned tabla and sarod. This was a major influence on my music.

In 1975 I met Tom Lopez of ZBS Foundation. Tom and I hit it off and have been working together ever since. We have collaborated on many audio adventures including "The Maltese Goddess" which won the Prix D'Italia in 1994.

In 1992, I took some time off from composing to pursue my other passion. I attended the Scottsdale Culinary Institute and became a cook in one of the best restaurants in Phoenix. Although I eventually returned to composing, my passion for cooking has stayed with me.

In 2005, I joined Hot Duck Soup Novelty Jazz Band, built myself a washtub bass and learned how to play it. It's great to be playing with other musicians again and hearing audience applause. Makes me happy.